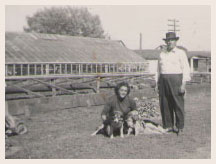 Yerico Farms...
"If you do a little
every day, you will
never get behind"
— John Yerico Sr.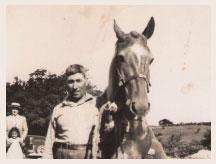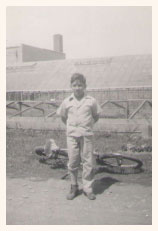 In the early 1900's, sponsored by an American farmer, Anthony Yerico immigrated to America from Italy to become a common farm laborer and American citizen. After some years of hard work and learning he purchased a team of horses, which became his first enterprising experience. Now known as a "teamster", these horses provided the first step of his life goal - to become a farmer. Knowing he would need these horses and "team experience", he moved towards his next goal: land. He sold his tools, carts, wagons, and his house to purchase the farm. Anthony and his wife raised a full product line with horse and cattle, not to mention four sons and a daughter.
That daughter, Josephine, just like mom - married a teamster, only this time the teamster had a truck instead of horses. Operated the farm by day...drove the truck at night. They purchased a small farm closer to the foothills of Sheridan where the land seemed to be kinder to earlier crops unlike the family homestead. Suited much better for fruits and vegetables, they expanded into a greenhouse operation and continued with bulk crops - leaving behind the livestock. After Anthony passed away, one of the sons took the operation over for a while but took ill himself to an early passing. The youngest son, John, was in his childhood on the farm with his brother and father before these untimely events. John then spent many years on his older sister's farm, playing, working, learning, and growing.
John eventually went on to employment with his thriving farm, expanding and maturing with the operation to include mechanically harvested crops, automation, retail sales, new varieties, and much more. When the time passed and he took the reigns, the greenhouse operations and retailing was left behind for larger bulk fruit operations. He took a wife and added a daughter and son to the growing family operation. Branching out into fresh retail crops once again, the son decided to join the operation upon maturity.
I am that son with two sons of my own, and a daughter who all are involved in the farm operation in one way or another. Their mother, my wife, is the retail and greenhouse manager of our growing operation. We represent the third and fourth generation of "growth". All of us have drawn great strength from the farm. We have forged ahead together with technology, knowledge and experience, with generations of family and friends. Learning and experiencing all through the journey.
Though things will always change, we feel our mission statement has the qualities to be timeless. Our operations will adapt to meet the needs of that change. We live our mission statement as my father and grandfather did, with all that will change and has... our statement still remains the same.
--John Yerico, Owner and Operator, Yerico Farms