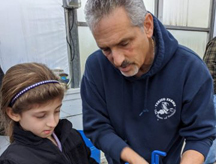 Yerico Farms...
We, at Yerico Farms, believe history
is our future and our children are
our hope - so bring the kids and
show them their roots!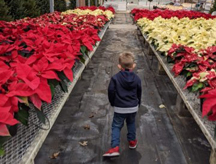 Christmas on the Farm
For years, John Yerico has had a vision of an old-fashioned Christmas experience at the greenhouse. Snow falling, local fresh cut trees and families searching for the perfect branches to hold those cherished memories. Christmas music playing inside the warm greenhouse with beautiful poinsettias, handmade wreaths , and gift baskets made with a local flare of goodies. And produce items from the farm to garnish your tables.
We invite you and your families to come experience this dream come true Yerico Farms Style!!
OPENING DAY: Friday November 24th, 2023. Open Daily from 10 AM – 6PM 7 Days a Week!
Christmas Trees
Local Fresh cut trees of all different shapes and sizes to suit your homes this holiday season! Many different varieties with beautiful branches waiting for you to take home and decorate with your favorite most special ornaments and lights!
Handmade Wreaths
Beautiful wreaths with fresh cut branches shaped perfectly starting at the most basic arrangement with a large, stunning bow of your choice. Or you can choose to spruce it up to suit your style! Various sizes available. Call ahead for special orders, or stop on by to see us!
Poinsettias
Gorgeous poinsettias available to decorate your homes this holiday season!! Tabletop arrangements or larger ones available in red or white, a speckled red and white combo, called Jinglebells, and introducing a true pure white poinsettia, called Princettia! Your choice of pot covers come in green or gold. 
Gift Baskets
Different varieties of gift baskets are available with a local flare of goodies to send or gift to your loved ones this Holiday Season. Franklin's Honey, Grape Country Candles, Gramma Walker's Fudge, Cuba Cheese and more! Delicious jams, jellies, maple syrups, relishes, BBQ sauces, mustards, and pickles. The list goes on and on. Our favorites are Grillin' and Chillin', We Be Jammin', and Taste of Summer for our signature gift baskets.
And new this Christmas season we will be adding a local Buffalo, NY style basket. 
Also available are Centerpieces, Swags, and Prelit Tabletop Trees! And as always gift certificates are available!
Call ahead for special requests or orders!
(716) 673-1271 or email: yericofarms@netsync.net
Follow us on Facebook for continued daily updates and changes!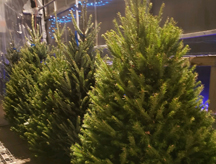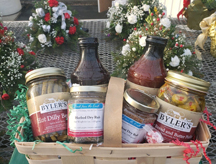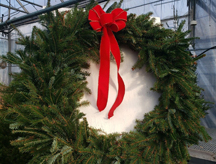 We can't wait to see you this holiday season and we wish you a very Merry Christmas and a blessed, happy and healthy New Year from all of us at Yerico Farms! Thank you from the bottom of our hearts!
Located: 3186 East Main Rd.
Dunkirk, NY 14048